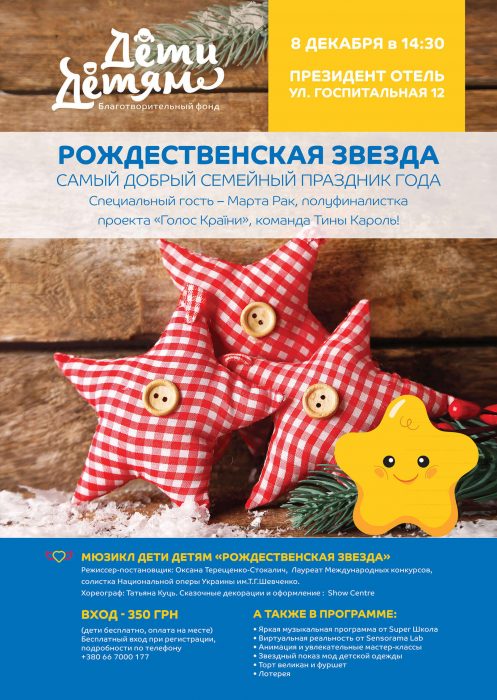 8 DECEMBER, 14:30
PRESIDENT HOTEL
Kyiv, 12, Hospitalnaya str.
On Saturday, December 8, at 14:30, the kindest family event "Christmas Star" organized by Kids to Kids Fund will take place at President Hotel Kyiv!
Every year for Christmas, we receive hundreds of letters from children from orphanages, boarding schools and families with children with disabilities. Children reveal to us their most cherished wishes in these letters. Our team carefully reads through all the letters and sends them to families who sincerely want to fulfill the dream of a child who with all his heart waits for the wonderful miracle on Christmas eve and New Year.
Families prepare gifts together with their children and bring them to our "Christmas Star" event.
It is important not only to give a gift, which the child dreamed about all year, but also to write a response. This will make the child to believe in a miracle. And for your family – this is the opportunity to share a piece of kindness with those who really need it. You can receive the letter from a child after the registration via the link.
This year the project covered 6 children's boarding schools and orphanages, as well as 20 families with children with disabilities. This is about 700 letters.
Kids to Kids Fund and our partners have prepared great entertaining program for the event this year! Every minute will be filled with joy and positive emotions!
Program includes:
– Musical "Christmas Star"
– Virtual Reality by Sensorama Lab
– Bright music program from Super School
– Animation and creative work-shops
– Fascinatin kids' clothing fashion show
– Lottery
– Giant cake and buffet bar
Special guest – Marta Rak, semifinalist of the project "Voice of Ukraine", Tina Karol's team!
Tickets: 350 UAH (payment on the spot)
Important
Free entry upon receipt of the letter from a child. You can receive the letter after registration
via the link
.
See you soon!