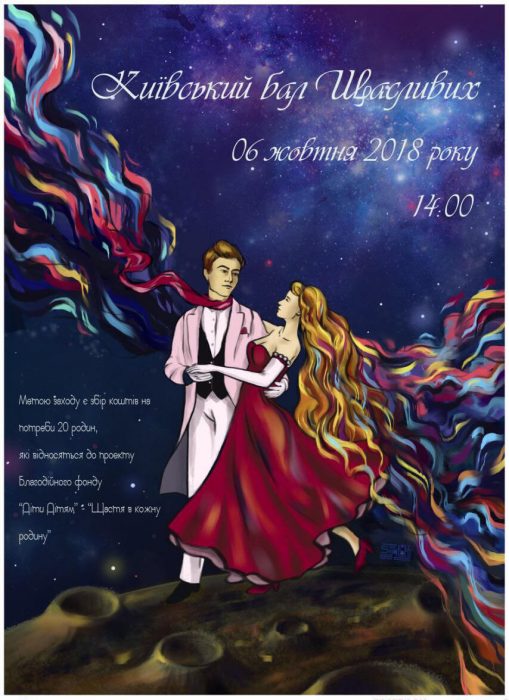 6 October 2018
REGENT HILL event hall, Kyiv, Michurina st., 54a  
Facebook event link
In one of the warm, autumn days you have a chance to appear in a real fairy tale, as well as a flight to the charming asteroid В-612! On October 6, 2018 Kyiv Charity Ball will take place in the column hall of the Kyiv city administration building!
The purposes of the event are:
– to raise funds for the needs of 20 families supported by "Kinds to Kids Charity Fund";
– revitalize European ballroom culture traditions;
– introduce charity volunteering ideas to young public.
The concept of the project is to help families with children with disabilities to support normal life for their kids. Get acquainted with charity star guests. Also, you will have the opportunity to become the owner of interesting gifts, from our wonderful partners.
Open your heart and take a step with us!
Registration will continue until 6 October (the day of the Ball), but the ticket price will change.
We remind you that all collected funds will go to the project of the "Kids to Kids Charity Fund" – "Happiness to every family".
Registration and payment terms:
– pre-registration is obligatory;
– upon registration we send you bank detail for payment;
– after payment you will receive an electronic ticket.
Cost of a participant's ticket:
– until September 9 (inclusive) the cost is 150 UAH;
– from September 10 to October 05 (inclusive) the cost is 200 UAH;
– on the day of the event the cost is 250 UAH.
Guest ticket cost:
– 100 UAH.
The cost of attending the master classes for a participant is free of charge, for the guest – 50 UAH.
Each of your contributions is an integral part of helping children. Your participation in the social and charitable life of our country is very important for us!
Registration link:
https://docs.google.com/forms/d/e/1FAIpQLSefDC6wrMTGcmnReeNFLkmOHdL8f__CkTQ-pEFVl_Lxfs0Dgg/viewform
Attention!
PRELIMINARY REGISTRATION IS OBLIGATORY!