Sasha Patashov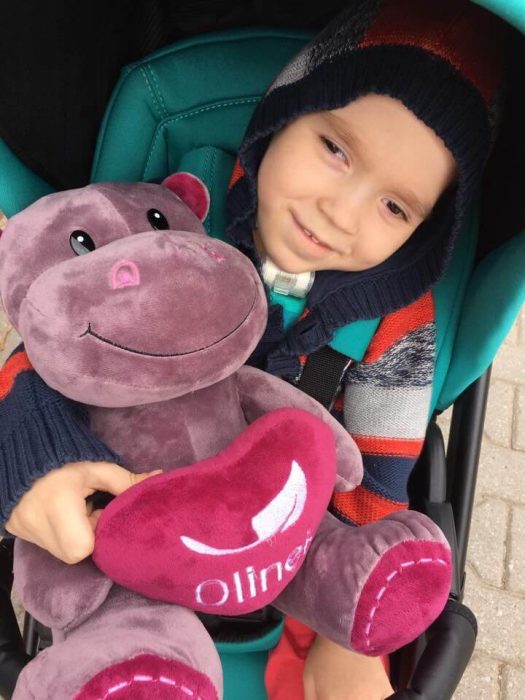 Diagnosis: spastic tetrapapesis, severe stage.
It will be just another story for someone, similar to thousands of the same stories. This story is about life of a Little Man, about broken dreams and plans, about how the life of one family and many people can change in just one day.
Sasha has a twin brother and an older brother. They are great helpers to their mother and Sasha's defenders. Sasha is one child of twins, born first by vacuum extraction method.
Up to 1.5 months Sasha was healthy. But August 19, 2013 divided the life into "before" and "after." Sasha was in resuscitation with respiratory arrest. For two long weeks in intensive care, coma, hemorrhage in the brain, convulsions, artificial lung ventilation, the doctor kept telling the same news – condition is stable and very serious. Then it seemed that the most terrible thing was already happening, that the main thing is for Sasha to get out and breathe himself, and then everything will definitely get better.
After resuscitation in neurology, the son received an anticonvulsant daily. His condition did not improve at home.
Parents turned to a neurosurgeon, made punctures – pressure, accumulation of cerebrospinal fluid with blood – severe headaches. Inpatient treatment was not effective and we went to Kiev, to the Romodanov Institute. In the neurosurgery department, Sasha underwent an operation: drainage. Severe convulsions began – when the child shudders and stretches like a bow string. After two months in Kiev, he was again in neurological department of the hospital.
It was the moment when the family was forced to seek help from other people. For them it was the only chance. This is another step that brought Sasha closer to the possibility of getting better.
There are still many steps ahead that Sasha needs to take.
In March 2015, the family went to the clinic Helios, Germany, Brandenburg. Sasha underwent 2 surgeries, installed a gastrostomy and tracheostomy. It was very difficult and painful to make these decisions, but so far it was necessary. For two and a half years, it is very difficult not to hear either the voice or the laughter of your baby. The whole family believed that the tracheostomy will definitely be removed and they will finally hear the voice of their son.
Unfortunately, Ukraine does not have the necessary supplies for Sasha, which are vital for him. These materials are expensive and the family is very grateful to the project "Happiness for every family" of the Kids to Kids fund for monthly assistance in their acquisition. Sasha also constantly needs planned rehabilitation.
Join the project!
Your monthly donations will help Victoria and other kids to have the most necessary needs for everyday life!
Please read more stories about other children on our website in Stories section.
For more information call +38 0 66 7000 177 or e-mail [email protected]
Bank details for monthly payments:
PrivatBank
Account 26000056127077
MFI 380775
EDRPO 41350891